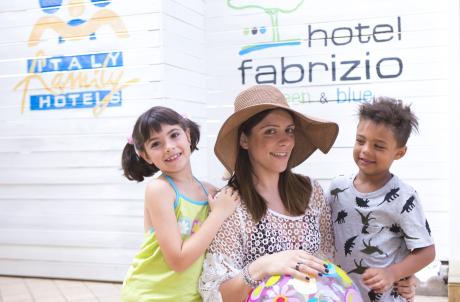 EARLY BOOKING Offer
Discounts up to 10% for bookings made by 02/15/2019!
Take advantage of the EARLY BOOKING special offer proposed by Fabrizio Hotel of Rimini and ride the wave of convenience for your 2019 summer holiday!
 
If you book your stay of at least 5 days by February 15th 2019…you will benefit from DISCOUNTS up to 10%!
 
EARLY BOOKING OFFER
 
If you book by FEBRUARY 15th 2019…. 

10% DISCOUNT if you pay the whole accommodation rate
You may cancel free of charge until one month before arrive.
You will be charged 30% of the whole if you cancel in the month before arrival.

5% DISCOUNT if you pay only a deposit  (equal to 30% of the whole amount)
If you decide to pay only the deposit, you don't take any risk as you can recover it by enjoying a similar stay during other dates or even the next year!

Some VALID REASONS to make an early booking:
 
- It is our best rate for the 2019 summer season
- It is offered for every accommodation type (min. 5 nights)

 
For all further information or to receive a customized quote , fill out the below form :


loading form
SEE ALL
Wish to move forward with your next holidays?
Pay your deposit online
Via Tozzi, 5 - 47923 Rimini (Rn)
Tel.

+39 0541 381726


E-mail:

posta@hotelfabrizio.it


P.Iva 01730630405
Privacy Policy